The Oak Circus Centre is an extraordinary and flexible venue that can be adapted to create a unique setting for your own parties, wedding receptions and other celebrations and events.
Located in the heart of Norwich, literally a short walk from the bottom of St Benedicts Street and the famous Norwich Lane's, our space is not only ideally located, it's also a one of a kind, uniquely historic venue.
Make their birthday the talk of the playground with a circus party! Our experienced tutors deliver energetic, challenging and fun workshops to make the special day one to remember.
Professional tutors can provide energetic and playful circus activities in a safe and welcoming environment.
Party duration is usually 2 hours: comprising of 1.5 hours of activity and 30 minutes for catering/birthday cake on our mezzanine. You can choose your activities in advance. Interested?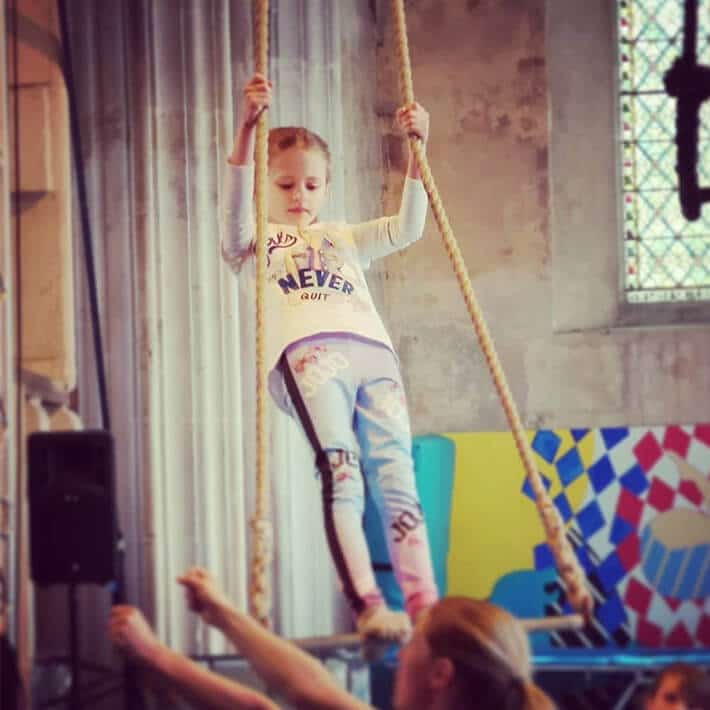 Party sessions can include
Some of the fun activities your kids can enjoy.
We've got lots of space to run around and lots of fun circus games to keep everyone happy.
Having fun and learning something new and exciting. We can tailor for up to a half-day workshop, or additional extras such as catering, or a performance upon request.
Longer workshops can cover a wider range of activities, or longer sessions in each activity.
Reach out to us by emailing info@theoakcircuscentre.org
Fantastic birthday party
I wanted to say a very big thank you for providing a fantastic birthday party for Grace yesterday. She, and her friends, had an amazing time and they all thoroughly enjoyed the event. I have had lovely feedback from so many parents, it was clearly an event to remember.
The Norwich venue where history meets circus magic.
CONFERENCES & FUNCTIONS
Do you want a new and unique venue for your business event, staff party or to entertain clients? We can offer a truly unique venue, and a performance or workshop tailored to your requirements.
Whether you are planning a conference, networking event, or fundraiser The Oak Circus Centre provides a unique and adaptable environment for a wide range of needs. We can provide space and resources for up to 150 people, with seating, projection screen, stage, lights and sound, or make use of our bar/cafe area.
Additional entertainment or activities can be provided on request. We also deliver corporate away days. Interested?
Discover more about our Workshops →
Beautiful & very flexible
The event space is beautiful and very flexible, and the support staff provided were super helpful – we had a few peculiar requests which were happily met – thanks to the whole team at Oak St Circus the event went really well and we got amazing feedback on the venue.
PARTIES & CELEBRATIONS
We can help you plan a celebration to remember. The Oak Circus Centre is a great space for a band or other entertainment, the space is also ideal for a smaller family party. We can also provide a circus show tailored to your event on request. For details on workshops for
kids parties see here →
WEDDINGS & SPECIAL OCCASIONS
Looking for something a little different for your special day? The Oak Circus Centre can provide a unique environment and experience, whether you are looking for a circus theme, with entertainment and activities, or simply a unique event in a beautiful historic building.
Creative Space & Venue Hire
The Oak Circus is a unique creative space with high quality circus facilities, and a capacity to deliver performances and events.
We have hosted a number of international circus companies for rehearsals, residencies and showings.
We have also worked with other organisations such as The National Centre for Circus Arts, and Circus Futures, to support funded creative residencies.
The Oak Circus Centre is one of very few spaces in the country that has the height and space to house large circus disciplines such as swinging trapeze and teeterboard.
Whilst specialising in circus, we also welcome other creatives into our venue, we are available for theatre/music/dance rehearsals and performances, photo shoots, film shoots and book launches to name just a few possibilities.
Our beautiful Grade 1 listed building provides an inspiring and unique environment in which to create, with our large main space or smaller mezzanine space available for hire.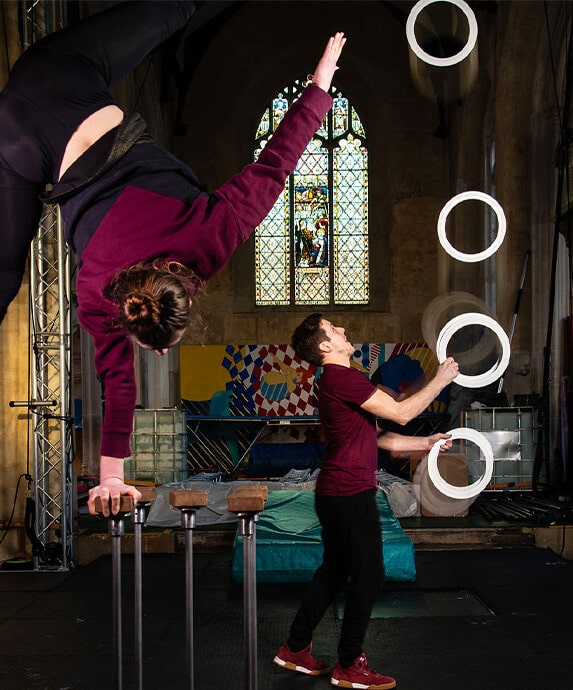 St Michael Coslany Church
Our space at St Michael Coslany is a Grade 1 listed building in the heart of Norwich. Famed for the beautiful external flintwork and host to a working set of bells and regular bell ringers, St Michaels has become our home.
Perhaps the most elegant and beautiful of the Norwich city centre churches, here is early 16th century Perpendicular in all its glory, with stunning flushwork across the east end and the aisles.
Conveniently located and literally a 5 minute walk from the bottom of St Benedicts Street and the famous and unique Norfolk Lanes.
Find & contact The Circus
The Oak Circus Centre is located in the heart of Norwich, literally a short walk from the bottom of St Benedicts Street and the famous Norwich Lane's, our space is not only ideally located, it's also a one of a kind, uniquely historic venue.
We are located within the inner city ring road just 5-10 minutes walk from most city centre locations.